We are the first Spanish pork producer to obtain the AENOR 'Animal Welfare' certificate for all the livestock farms and the whole production process.
At COSTA FOOD, our commitment to 'welfare' is based around comprehensive care for the animals:
Good
food
Good
sites
Good
health
Suitable
behaviour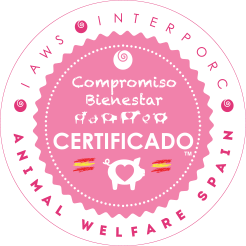 Our products have the
Welfair™ certificate for Animal Welfare
, certified by AENOR, based on the European benchmarks
Welfare Quality® and AWIN®
, the leading European point of reference for animal welfare. Additionally, progress has also been made towards other certificates, such as achieving the
IAWS – ANIMAL WELFARE certificate from Interporc
, meeting the most stringent requirements from the European Union in the area of animal welfare and bio-safety. This certificate was created by and for the sector itself and is endorsed by scientists, certifying bodies and animal rights organisations.